The Academy Editions of Australian Literature
An Australian Girl
by Catherine Martin
Edited by Rosemary Campbell
General Editor Paul Eggert
This powerful narrative of a woman's love and betrayal was published in 1890 by the London firm of Bentley and Son despite the publisher's concerns about the novel's often radical political, philosophical and religious content. When a second edition was published the following year, much of this material, including the novel's dramatisation of such issues as euthanasia and eugenics, religious belief and German socialism, had been cut at Bentley's insistence, shortening the text by about one fifth. Until now, this abridged version of the novel has provided the basis for all later editions of An Australian Girl.
This new critical edition restores the full text of the first edition with its careful integration of the novel's predominant elements: the intellectual and the emotional. The questing intelligence of the brilliantly drawn central character - Stella Courtland, the 'Australian girl' of the title - underpins her capacity to both feel and to act. Stella's intelligence leads her to suffer, but it also enables her to survive.
The Academy edition of the novel, published in 2002, contains an account of the writing, publishing and critical reception of the novel in England and Australia, and of its author's ongoing and often painful negotiations with her publisher.
Catherine Martin's own reading was as wide-ranging as her social awareness. Detailed explanatory notes enable the reader to appreciate the extraordinary richness of the novel's literary and philosophical allusions and the extent of its social and political concerns. There is an accompanying biographical essay by Margaret Allen of the University of Adelaide; it is the fullest account of Martin's life to date, reporting many new findings.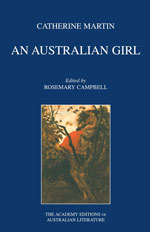 ---
About the Author
The ninth child of a poor crofter's family, Catherine Martin (née Mackay 1847-1937) migrated with her family from the Isle of Skye to South Australia in 1855. As a young woman in Mount Gambier she ran a girls' school while writing and publishing poetry and then fiction. A move to Adelaide and marriage to Frederick Martin preceded her full-time career as a novelist, short story writer and European traveller. Her other novels include The Silent Sea (1892), The Old Roof-Tree (1906) and The Incredible Journey (1923).
About the Editor
Rosemary Campbell is a Senior Lecturer in English at the Australian National University. As Rosemary Foxton, she edited the first critical edition of Catherine Martin's The Silent Sea for the Colonial Texts Series (UNSW Press, 1995).