Australian Literary Bibliography Series
published with the National Library of Australia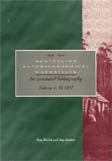 The first volume, Australian Autobiographical Narratives: An Annotated Bibliography Volume 1: To 1850 by Kay Walsh and Joy Hooton (1993), was favourably reviewed in Australia and by Horst Priessnitz in the prestigious German periodical, Archiv (Bonn), 146 (1994), 439-42: 'the first volume of the bibliography already makes an important contribution to the documentation and study of colonial Australia'. He also commends its 'scrupulous and comprehensive bibliographic work'. A volume covering the period 1850-1900 is the fourth title in this series.
---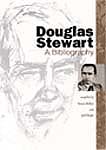 The second in this series, Douglas Stewart: A Bibliography,a bibliography of the writings and personal papers of Douglas Stewart compiled by Susan Ballyn and Jeff Doyle, was published in 1996.
---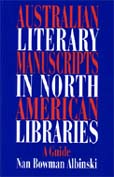 The third volume, Australian Literary Manuscripts in US Libraries,an annotated listing of Australian literary manuscripts in US libraries compiled by Nan Albinski, was published in 1997.
---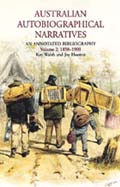 The fourth, and final volume in the series, Australian Autobiographical Naratives: An Annotated Bibliography Volume 2: 1850-1900, by Kay Walsh and Joy Hooton, was published in 1998.
---
Orders at $40 per volume from:
Prof. Paul Eggert
Australian Scholarly Editions Centre Projects,
School of Humanities and Social Sciences,
University of New South Wales Canberra,
PO Box 7916 Canberra BC 2610 AUSTRALIA
email: p.eggert@adfa.edu.au