The Academy Editions of Australian Literature
The Journal of Annie Baxter Dawbin 1858-1868
Edited by Lucy Frost
General Editor Paul Eggert
1858-1868 represents the final and most striking section of some remarkable, illuminating memoirs spanning thirty-five years in the life of a talented, unconventional and intriguing woman. The annotated Academy Edition, published in 1998, is a uniquely valuable text for Australian social history.
In July 1858, Annie Dawbin and the man she had rashly married a year before rode north from Portland in Victoria to Sinclair, where they would try a second time to run a successful cattle station. Annie wrote her hopes into the journal in which, as a flamboyant woman of decided opinions and considerable charms, she had been chronicling her version of British settlement in Australia since 1834. Thirty-two volumes of the Journal survive, a remarkable achievement unmatched in colonial Australian letters. Only extracts from the Journal have previously been published. The present volume presents the full text of its most vital period, 1858-68, together with full annotation, biographical notes, maps, and historical and editorial introduction.
Annie recorded the daily life of station work, which she relished in spite of its demands, difficulties and disappointments. A lover of story, she delighted in local gossip, however malicious, and set down in her notebooks the private lives of some of the Western District's most public figures. Unluckily, her own story at Sinclair was not the longed-for Romance in which she could centre herself as heroine, but rather a humiliating descent into bankruptcy.
Forced off the station in 1862, the Dawbins rented a house near Melbourne. While Robert drifted listlessly and then returned, alone, to England, Annie worried over daily expenses, looked for work and rebuilt her social world. Living first with a family and then in a boarding-house, she details the city's life as seen from the vantage point of a woman dangerously close to the edge of respectability.
In 1865 Annie sailed to rejoin Robert Dawbin in Somerset. Of those years as an English farmer's wife in her husband's home territory, the Journal has nothing to say. Only when the Celestial Queen left for New Zealand with Robert Dawbin responsible for a consignment of salmon ova encased in ice did Annie again take up her pen, but in Dunedin's harbour the journal comes abruptly in mid-sentence to an end, although its writer lived for another forty years.
A preview of the publication can be downloaded here (with Adobe Acrobat):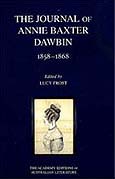 ---
Biography of Editor
Lucy Frost is a Professor of English at the University of Tasmania. Her earlier work on the journal of Annie Baxter Dawbin has been published in No Place for a Nervous Lady (1984) and A Face in the Glass (1992).