The Academy Editions of Australian Literature
His Natural Life
by Marcus Clarke
Edited by Lurline Stuart
General Editor Paul Eggert
Classic convict novel, first published as a serial in the Australian Journal 1870-71. The Academy Edition, first published in 1999, provides the text of the book publication by George Robertson of Melbourne, rather than the version published later by Bentley of London.
Since its first publication as a serial story in the Australian Journal, Marcus Clarke's grim yet profoundly moving account of the colonial convict era has been almost continuously in print. Revised and condensed by its author for the first edition in book form, published by George Robertson of Melbourne in 1874, the novel is the most significant Australian classic of the nineteenth century. However, during its production by various publishers over more than one hundred years, thousands of errors and unacceptable alterations have crept in, making the text progressively unreliable.
Based on the 1874 Robertson edition, the present edition eliminates the hundreds of changes made by a publisher's editor for the 1875 Bentley edition - from which most later printings have derived. Variants appearing in other editions published during Clarke's lifetime are contained in a detailed textual apparatus; another table compares the serial version to the first edition.
The introductory essay is the result of extensive research, as are the explanatory notes that clarify the novel's many literary, historical, biblical and classical allusions. Accompanying essays regarding the historical basis of the novel, as well as its presentation in drama and film, are contained in appendices. In all of these ways the present edition aims to restore His Natural Life to its nineteenth-century context while making the novel accessible to readers of today.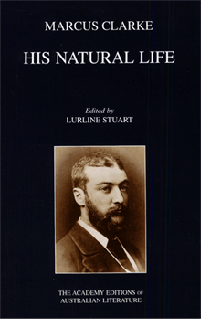 ---
About the Author
Born in London in 1846, Marcus Clarke emigrated to Victoria in 1863. He worked in a bank, on sheep stations, wrote for the colonial press, and later worked as an editor, publisher and in the Public Library in Melbourne. Of bohemian bent, his short life was nevertheless a productive one. However his several novels, plays, and many historical articles and short stories did not keep him from financial difficulty, and he died penniless in 1881.
About the Editor
Lurline Stuart is Research Associate at the National Centre for Australian Studies at Monash University, Melbourne. She is the compiler of Nineteenth Century Australian Periodicals: An Annotated Bibliography (1977) and author of James Smith: the Making of a Colonial Culture (1989).