The Academy Editions of Australian Literature
Australian Plays for the Colonial Stage 1834-1899
Edited by Richard Fotheringham
Music in the plays edited by Angela Turner
General Editor Paul Eggert
From the mid-1830s until the end of the nineteenth century hundreds of plays were written and staged in the Australian colonies. The first known of these, Henry Melville's The Bushrangers, was performed by a mixed amateur and professional cast at Hobart's Argyle Assembly Rooms on 29 May 1834. By the end of the century at least six professional theatre companies were giving hundreds of performances of versions of The Kelly Gang to popular acclaim throughout the length and breadth of Australia.
This Academy Edition, published in 2006, presents the scripts of nine colonial plays, one of them in two versions. Beginning with Melville's short melodrama and ending with the best known of the Kelly Gang plays, first staged in 1899 in Sydney, the volume also contains a scurrilous satire Life in Sydney (1843), a pioneering romance Arabin; or, The Adventures of a Settler (1849), a short choral 'masque' The South-Sea Sisters (1866), a proto-nationalistic pantomime in Melbourne and Sydney versions The House that Jack Built (1869 and 1871), a city murder-mystery Hazard (1872), a comic-horror saga of a bush heroine For £60,000 (1874) and the first Australian stage classic, adapted in 1886 from Marcus Clarke's novel, For the Term of His Natural Life.
Each script has been carefully edited or reconstructed from unique manuscripts or rare colonial printed editions, giving full respect to their historical forms and usages. The plays have been given generous historical and textual introductions and are supplemented with explanatory notes on the many people, places, events and stories referred to. An appendix contains nearly sixty pages of music for the songs and tunes used in four of the productions. The extensively illustrated general introduction describes the Australian colonial theatre industry – its stories, artists, stage traditions and innovations – and explains their appeal as art and show business to men and women from different social groups living in both city and country.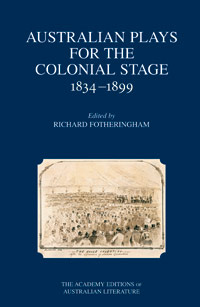 ---
About the Authors
Henry Melville (c. 1799–1873) was a prominent Hobart-based newspaper editor and proprietor. The Bushrangers is his only known play. Life in Sydney was written anonymously by 'A. B. C.', but has been attributed to Henry Charles O'Flaherty (c. 1818–54), a Sydney-based violin player and teacher and husband of the well-known actress, Eliza Winstanley. James R. McLaughlin was an obscure Melbourne-based schoolteacher, poet and dramatist (fl. 1840s). Arabin is his only extant play. Richard Henry Horne (1802–84), author of The South-Sea Sisters, was an English poet and playwright who came to Victoria in 1852 during the gold rush and later lived in Melbourne. He returned to London in 1869. William Mower Akhurst (1822–78) was a prolific dramatist who specialised in pantomimes that interwove political satire and musical fantasy. The House that Jack Built was his last and most acclaimed Australian work. The name of the localiser of the Sydney version is unknown. Walter H. Cooper (1842–80) was a Sydney-based journalist, playwright, politician, barrister and actor whose plays, including Hazard, achieved the first long seasons of locally written melodramas and were also performed in America. Helen Lucy Benbow (born 1842) was a writer, composer and artist who spent her youth in country Victoria where her comedy-melodrama For £60,000 was first performed. Thomas Walker (1858–1932) was a child preacher, spiritualist, temperance lecturer, newspaper editor, dramatist and a prominent politician, first in New South Wales and later in Western Australia. His adaptation of For the Term of His Natural Life took considerable liberties with Marcus Clarke's story but was performed all over Australia for more than twenty-five years. Arnold Denham (Arnold Denham Boulger, born c. 1873) was a one-time library worker and plagiarist of earlier adaptations of the story of Ned Kelly and his fellow bushrangers, which he reworked with an anonymous contributor into The Kelly Gang, the best known and longest-running of all plays written for the Australian colonial stage.
About the Editors
Richard Fotheringham is Dean of the Faculty of Arts and Reader in Theatre Studies at the University of Queensland, specialising in colonial and early twentieth-century Australian plays. His writings include Sport in Australian Drama (1992) and a biography of Arthur Hoey Davis In Search of Steele Rudd (1995).
Angela Turner is a pianist, researcher and music editor, and is currently on the staff of the Queensland Conservatorium, Griffith University.