The Academy Editions of Australian Literature
The Collected Verse of Mary Gilmore. Volume 1: 1887-1929
Edited by Jennifer Strauss
General Editor Paul Eggert
Mary Gilmore was Australia's foremost woman poet during the first half of the twentieth century as well as an activist who cared about what Australians had done to the continent's Indigenous people and its natural environment. Yet Gilmore was intensely proud of her pioneer heritage. Her sometimes inconsistent ideas about European settlement, White Australia, the Church, sexuality, eugenics, heroism and warfare provide vivid insights into the social and ideological shifts and conflicts that have marked the course of Australian history.
Volume One of this two-volume Academy edition of Gilmore's poetry, published in 2004, covers the period from 1887 to 1929. It re-unites 388 previously uncollected poems with those chosen from her published collections of this period. For the first time we have a clear view of the poet of radical politics who co-existed with the bush balladist of The Tilted Cart and the singer of passion and domesticity, much approved for the 'womanliness' of Marri'd and Other Verses and The Passionate Heart. Gilmore was still working her way in middle age towards the control over form and voice that distinguishes the work to be found in Volume Two, published in 2007.
In this variorum edition her poetry has benefited from a scholarly editorial scrutiny. Both volumes provide reliable texts of all her published poems as well as documenting the often revealing alternative readings when the poems were republished for different audiences in journals, collections and anthologies.
Annotation has also been provided for contemporary references and allusions that might otherwise be unclear to the modern reader.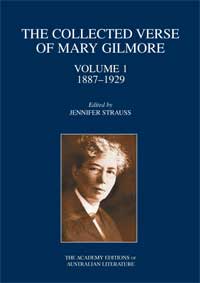 Reviews of Volume One
... accomplished poems emerged among a sizeable body of verse that is generally considered not to have transcended its time and place. This judgement, however, has usually been made without access to Gilmore's complete published oeuvre, which the Academy Editions of Australian Literature has now made available. The editor, Jennifer Strauss, contributes an illuminating introduction to this first volume and it contains a number of useful indexes, a satisfyingly detailed chronology and a note on the manuscripts.... this book demonstrates the overall competence of her writing and includes a variety of accomplished works. It reveals a feisty and inventive, if not always subtle or original, mind. Gilmore was ahead of her time in her concerns but fairly orthodox in her views on sexual politics. The work collected here helps to define a period when Australian literary culture began to come forcibly into its own. – Paul Hetherington, Times Literary Supplement
"The volume is a triumph of scholarship and industry, and a real work of recuperation and restoration. It gives us new material for rereading Australian literary culture from the 1890s to the 1950s.…Now in this authoritative new edition, we come in contact again with a vanished world that has so many threads connecting it with our own." – Vivian Smith, Australian Book Review
---
About the Author
Mary Gilmore was born Mary Jean Cameron into a poor, farming family in rural New South Wales in 1865. She became a school teacher, journalist and poet. She married in 1897 and had a son, but from 1914 she lived alone. In ninety-seven years of life she witnessed the rise of Australia as an independent nation and its transition to an industrial and urban society. She was made a Dame of the British Empire in 1937 for her achievements in literature and social reform. The political convictions that had earlier driven her to abandon Australia in favour of an experimental settlement in Paraguay remained with her during the Depression and two World Wars. She was outspoken in her writing, and her themes included marriage and motherhood, injustice, patriotism, concern for the environment and the fate of Australia's Aborigines. By the time of her death and state funeral in 1962, she was established as the grand old lady of Australian literature.
About the Editor
Jennifer Strauss is an Honorary Senior Research Fellow in the School of Literary, Visual and Performance Studies at Monash University. A graduate of Melbourne and Monash Universities, she has taught mainly in the fields of Medieval literature, Australian literature and feminist writing and criticism. Her scholarly publications include critical studies of Gwen Harwood and Judith Wright, editorship of The Oxford Book of Australian Love Poems and Family Ties: Australian Poems of the Family, and co-editorship of The Oxford Literary History of Australia. Four collections of her poetry have been published.