The Academy Editions of Australian Literature
The Getting of Wisdom
by Henry Handel Richardson
Edited by Clive Probyn and Bruce Steele
General Editor Paul Eggert
This new critical edition of the novel contains an account of its writing, critical reception in Australia and in the English-speaking world at large, and the story of its textual evolution. Notes indicate the level of realistic or historical detail which Richardson needed in order to nourish her fiction. It also contains, for the first time in print, a fragmentary memoir of Richardson written by her close friend Mary Kernot (the 'Cupid' of the novel), verses from Richardson about her schooldays and contemporary material from the school magazine which indicates awareness of Richardson's intense, real-life relationship with Connie Cochran (Evelyn Souttar) only circumspectly described in the novel. This Academy Edition is published in 2001.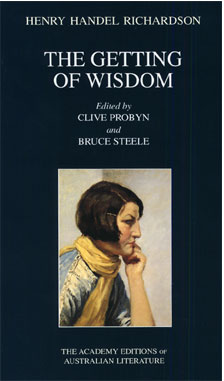 ---
About the Author
Born in Melbourne in 1870, Ethel Florence Lindesay Richardson took the name of Henry Handel Richardson when Maurice Guest, her first novel, was published in 1908. She spent many years in Germany, and afterwards lived in England from 1903 till her death in 1946. She was also the author of Maurice Guest, the trilogy The Fortunes of Richard Mahony, short stories and other writings.
About the Editors
Clive Probyn, Professor of English at Monash University, Melbourne, and Bruce Steele, Honorary Senior Research Fellow at Monash University, are the co-editors of Henry Handel Richardson's Maurice Guest (1908) in the Australian Academy Editions of Australian Literature series (1998).