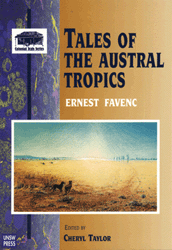 Tales of the Austral Tropics
by Ernest Favenc
Edited by Cheryl Taylor
Tales of the Austral Tropics is the first critical edition of stories by Ernest Favenc, which were first published in Sydney's Bulletin in the 1890s. Together with contributions by Henry Lawson, A. B. Paterson, Price Warung, Louis Becke and others, they played an essential part in the formation of Australia's national mythology. The stories were republished in volume form in both Sydney and London.
Favenc's stories draw their vivid realism from the author's twenty years' experience as an explorer and rover in north Queensland. Some are romances of mateship and self-sacrifice, while others are comedies that celebrate ther virtuosity of bush tricksters. However, the most characteristic stories return to the theme of death in the desert, mangroves and caves. Their obsessive horror and ugliness are suggestive of tensions in the national identity, as it emerged in an alien environment, to confront many kinds of racial and cultural differences.
In this Colonial Texts Series edition (1997), Favenc's extensive revisions of the stories, as he reshaped them for different audiences, are recorded in full, together with explanatory notes and the historical introduction that regathers for the modern reader the contexts in which the stories first appeared.
---
About the Author
Ernest Favenc came to Australia from England in 1863, and after spending a few months in a 'commercial occupation' in Sydney, he moved as a jackeroo to the cattle station of an uncle in north Queensland. He spent the next sixteen years in north and central Queensland working on stations, and was caught up in the enthusiam generated by the gold strikes in north Queensland between 1867 and 1871. In the years following (1878-1888), Favenc undertook three extensive expeditions exploring north Queensland and the Northern Territory.
Between 1871 and 1880 Favenc published fiction and poetry irregularly in the Queenslander. Between 1880 and 1883 he turned to journalism and wrote most frequently for the Sydney Mail. After a break in his newspaper publications in the mid-1880s, Favenc's writing first resurfaced in a prose sketch published in the Bulletin in 1898. He continued to make contributions to the Bulletin, the Australasian, and to the Queensland Punch and the Sydney Mail. Favenc's death on 14 November 1908 was widely reported and commented upon in Australian newspapers and magazines. He was buried at Waverley Cemetery.
About the Editor
Cheryl Taylor is a senior lecturer in the English Department at James Cook University of North Queensland in Townsville, where she teaches Medieval English language and literature, and women's fiction. She is the author of The Last Explorer (1983), a biography of Favenc. She is also co-editor of Latin Writings, by the fourteenth-century contemplative writer Walter Hilton (1987), and was formerly an editor of the journal, LiNQ (Literature in North Queensland).