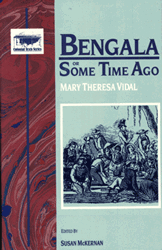 Bengala: or, Some Time Ago
by Mary Theresa Vidal
Edited by Susan McKernan
Bengala: or, Some Time Ago is one of the earliest novels published with an Australian setting. Like Henry Kingsley's well-known The Recollections of Geoffry Hamlyn (1859), it depicts the life of the colonial gentry in the years before the goldrush, but it offers a more domestic and less exaggerated version of their lifestyle.
Until now, the book has been available only in its rare first edition of 1860. The Colonial Texts Series (1990) resets 1860, with an informative introduction, and explanatory notes.
Isabel Lang, the indulged daughter of an Australian squatter, amuses herself with riding, picknicking and matchmaking among her friends. But the economic depression of the 1840s sweeps away Isabel's life of idle pleasure and she must now cope with finanical problems and human crises far in excess of those encountered by similar heroines in English novels. A convict servant takes to bushranging and a mysterious Jesuit priest becomes attentive to the Protestant, fun-loving Isabel.
---
About the Author
Mary Theresa Vidal (1815-1873) lived in Australia from 1840 to 1845. The author of Tales for the Bush, the first book of short stories published in Australia, she wrote Bengala fifteen years after her return to England.
Mary Vidal's interest in the role of women and her participation in the contemporary debate about religion adds a further dimension to her witty and dramatic novel.
About the Editor
Susan McKernan lectures in English at University College, Australian Defence Force Academy. A reviewer and critic, she is the author of A Question of Commitment: Australian Literature in the Twenty Years After the War (Allen & Unwin, 1989).