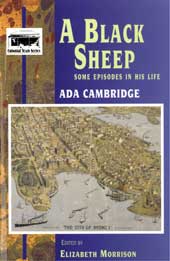 A Black Sheep
by Ada Cambridge
Edited by Elizabeth Morrison
A Black Sheep is the original serialised version of Ada Cambridge's best known novel A Marked Man. Following the fortunes of Richard Delavel as a rebellious Oxford undergraduate in 1850s England and a still restless mmiddle-aged family man in 1880s Sydney, the story presents his life and loves, work and leisure, beliefs and hopes against a background of constraints and opportunities in Britain and Australia.
A powerful creation of an iconoclastic character in search of professional fulfillment, A Black Sheep is also a complex reflection on marriage ties and social obligations and a lively evocation of late colonial Sydney. Serialised in the Melbourne Age in 1888, its title was changed and parts of the text rewritten for the Heinnemann edition of 1890 on which all subsequent editions have until now been based.
Providing the text as Australian readers first encountered it, this Colonial Texts Series edition, published in 2004, also has an introduction tracing the publishing history, a textual apparatus displaying variants in the later version and explanatory notes to help readers appreciate significant allusions and quotations that might not be as familiar today as they were in 1888.
---
About the Author
Born in Norfolk, England, in 1844, Ada Cambridge was an established author of devotional verse and tales when she accompanied her clergyman husband, George Cross, to Australia in 1870. Living first in country Victoria and later in Melbourne, she turned to secular writing and became a leading colonial author. Widely acclaimed for her fiction, she produced a total of twenty-seven novels. In the 1870s and 1880s they were widely published in Melbourne and Sydney newspapers; in the 1890s and 1900s, brought out as books in London. Her output also includes many short stories and sketches, occasional verse and three poetry collections, two autobiographical works, and several essays and other prose writings. She died in 1926, in Melbourne.
About the Editor
Elizabeth Morrison has been research officer to the Canberra-based Academy Editions of Australian Literature project and before that she was a librarian, a lecturer in librarianship and a research fellow in Australian Studies. Now living in Melbourne, she researches and writes about nineteenth-century Australian newspaper, publishing and literary history, with particular focus on the role of newspaper serial fiction in colonial literary culture. Her edition of Ada Cambridge's A Woman's Friendship appeared in 1988 as the first title in the Colonial Texts Series.