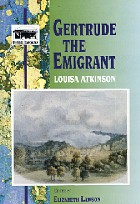 Gertrude, the Emigrant: A Tale of Colonial Life
by Louisa Atkinson
Edited by Elizabeth Lawson
Gertrude, the Emigrant: A Tale of Colonial Life (1857) was the first Australian novel written by a native-born woman and the first to be illustrated by its author. Published a few years after Catherine Spence's Clara Morison (1854), Gertrude also follows that novel in its story of a young immigrant heroine making a life in a colony which is itself in the making. The novel draws on authorial and family memories to summon the harsh, more complex, convict worlds of Sutton Forest, the Shoalhaven and Sydney in the late 1830s and 1840s.
Binding her novel together with a conventional romance - and a muder mystery - this journalist-writer cannot avoid a wandering mode of picaresque which allows her recording eye free play.
The chief value of Gertrude, the Emigrant rests today in its fresh, detailed documentation of regional history and its fine, evocative descriptions of lands and forests now lost. Written from a perspective as interested in domestic life as bush adventures, this is a novel which refuses to understand Australian colonial as English life transported elsewhere. This Colonial Texts Series edition is published in 1998.
---
About the Author
Caroline Louisa Waring Atkinson was born at Oldbury Farm, Sutton Forest, on the lower Southern Highlands of New South Wales on 25 February 1834. She began publishing in the Illustrated Sydney News in 1853 and continued publishing in journals up until her death in 1872. Her writings were all published pseudonymously. Louisa Atkinson was a practicising naturalist, artist and journalist, perhaps best known for the natural history journalism.
About the Editor
Elizabeth Lawson is a scholar, writer and curator. Her interests are poetry, fiction, colonial history and art history. Her most recent books are The Natural Art of Louisa Atkinson (1995) and The Poetry of Gwen Harwood (1991). She is also curator of the major travelling exhibition A Bird in the Hand (1998) for the National Library of Australia.