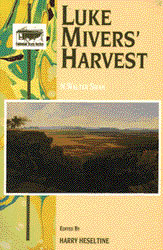 Luke Mivers' Harvest
by N. Walter Swan
Edited by Harry Heseltine
Luke Mivers' Harvest first appeared in the pages of the Sydney Mail in 1879 the winning entry in a literary competition conducted by the Mail and judged by Daniel Deniehy. A tale of adventure, love, and revenge, its action ranges from the sheep runs of Victoria to the Palmer goldfields in North Queensland. Scenes of high passion and excitement are interspersed with satirical commentary on many aspects of nineteenth century Australian life and manners.
Luke Mivers' Harvest affords a rich insight into the literary culture of colonial Australia. This Colonial Texts edition (1991) provides the first modern printing of N. W. Swan's most important work of prose fiction. The text of the novel is accompanied by a comprehensive Introduction and Explanatory Notes.
---
About the Author
Nathaniel Walter Swan arrived in Victoria in 1854, drawn by the great gold rushes of the period. Born twenty years earlier in Monaghan in Northern Ireland, he turned his hand to a variety of occupations before accepting the editorship of the Ararat Advertiser in 1861.
From then until his death in 1884 he pursued a successful career as journalist, newspaper editor and writer of fiction. A friend of Marcus Clarke, admired by Henry Kendall, associate of Melbourne's Yorick Club, Swan placed his tales throughout Australia's colonial press. His was a representative career in the generation which laid the foundations of Australia's literary culture.
About the Editor
Harry Heseltine has written extensively on Australian literary history and criticism, and is on the General Editorial Committee of the Colonial Texts Series. In 1990 he was made an Officer of the Order of Australia for his services to education, especially in the field of Australian literature.