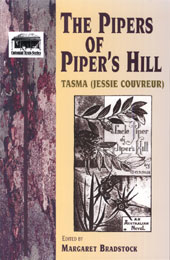 The Pipers of Piper's Hill
by Tasma (Jessie Couvreur)
Edited by Margaret Bradstock
The Pipers of Piper's Hill, later known as Uncle Piper of Piper's Hill, was serialised in the Australasian in 1888. It tells the story of the Cavendish family who come to Australia from England to live with Mrs Cavendish's parvenu brother, Tom Piper. The clash of values between the impoverished old world of privilege and the new-world democracy of the self-made man is a primary concern of the novel. Tasma's depiction of the conflicting currents of life in colonial society, and her delightful evocation of the characters involved, rapidly established her as an author of note.
The reading text is that of the novel's serialisation in the Australasian of 1888. Foot-of-page notes record the alterations and abridgements that attended the novel's transformation to single-volume form as Uncle Piper of Piper's Hill. This Colonial Texts Series edition is published in 2002.
---
About the Author
Born in 1848, Tasma emigrated to Hobart with her parents in 1852. In 1867, she married Charles Fraser and moved with him to Kyneton, Victoria: but the marriage ended in divorce in 1883. Tasma had been publishing stories, articles and poetry since 1877; she would produce six successful novels and a collection of short stories. In 1885 in Brussels she married Auguste Couvreur, a journalist and economist, and one of the most well-known political figures in Europe at the time. Following his death in 1894, Tasma persuaded The Times to accept her as their correspondent in Brussels in his stead, a remarkable achievement for a woman in that period.
About the Editor
Margaret Bradstock retired as a Senior Lecturer at the University of New South Wales, where she is now an Honorary Research Associate, in order to write and research full-time. Margaret has been widely published in journals and anthologies in Australia and overseas, and has won national awards for poetry, fiction and biography, including Rattling the Orthodoxies: A Life of Ada Cambridge (Penguin, 1991), Ada Cambridge's Thirty Years in Australia (UNSW Press, 1989) and Fidelis (Mulini Press, 1997).