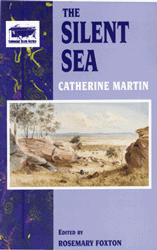 The Silent Sea
by Catherine Martin
Edited by Rosemary Foxton
The Silent Sea was first published in 1892 and until now has never been reprinted. The story centres around the Colmar Mine which is modelled on the largest gold mine existing in South Australia at the end of the nineteenth century.
Victor Fitz-Gibbon, young and adventurous, leaves Adelaide for the desolate outback and finds himself caught up in a dramatic sequence of events. The Colmar Mine also affects the lives of two very different young women: Helen Paget, an heiress and Doris Lindsay, a young girl whose life is changed forever with her mother's death.
This intelligent and sophisticated novel encompasses compelling psychological obsession, passionate romance and ironic questioning set in vivid historical detail against Adelaide society and the outback in 1890. It is an important rediscovery, published in 1995. The text is a reconstruction of the lost Bentley proofs from which the differently revised first English edition, Adelaide and Melbourne serialisations radiate. Significant variant readings are provided at the foot of the page.
---
About the Author
Catherin Martin was born Catherine Edith Macauley Mackey on the Isle of Sky in the Socttish Hebrides, in 1847 or 1848. Her family migrated to South Australia in 1855 and sewttled in Robe and then in Naracoorte in the south-east. In her twenties Catherine Martin lived in Mount Gambier, where she ran a girls' school with her sister and mother and where she also gained sufficient knowledge of the German language to include translations of German poetry among the verses she published, from 1868 onwards, in South Australian newspapers. In 1875 she moved to Adelaide.
Her first novel 'The Moated Grange' was serialised in the South Australian Chronicle and Weekly Mail, in 1877 and was followed by three short stories in South Australian newspapers: 'A Bohemian Born' (1878), 'After Many Years' (1878) and 'Breaking the Law' (1879). Her best known work, An Australian Girl was published in 1890.
About the Editor
Rosemary Foxton is a lecturer in the English Department at the Australian National University in Canberra, where she teaches both Australian and eighteenth-century literature. Her recent publications include a study of seventeenth-century Quaker women's writing and articles on Catherine Martin.