The Collected Verse
by John Shaw Neilson
Edited by Margaret Roberts
Published by the Australian Scholarly Editions Centre,
Canberra, 2003
The Collected Verse
View the Contents
Background
When John Shaw Neilson died in May 1942, numerous pieces of verse had been printed in newspapers and periodicals, five volumes of verse had been published and a quantity of verse, written in school exercise books for the most part, was left in the care of his executor. His first volume of poetry, Green Days and Cherries, went to proof stage in 1914 and was held in type for some months but did not proceed. Heart of Spring was published in 1919; Ballad and Lyrical Poems in 1923; New Poems in 1927; Collected Poems of John Shaw Neilson in 1934; and Beauty Imposes in 1938.
To date, approximately 700 complete pieces of verse have been located, of which about 135 are limericks and humorous quatrains. Of this total, only 197 poems and 31 limericks and quatrains were published during his lifetime.
His verse is an extraordinary mixture of the beautiful and the banal; of idiosyncratic symbolism and crystalline imagery juxtaposed with cliché and imbued with the often hackneyed thought and images of the popular culture of his day. It is peopled with one-dimensional figures, and abounds with detail. It is riddled with allusiveness: with the images, rhythms and verse forms of popular and folk song, and hymn; the Bible and nursery rhyme; contemporary poets and the great English poets. Its vocabulary is limited, simple, and occasionally strikingly literary. Its rhythms are sometimes flat and monotonous, and sometimes counterpointed with great subtlety.
There is a compelling quality about much of Neilson's work just as there is about much naïve painting, a quality that either repels, or attracts and invites. It is certainly a quality that compels us to ask 'what manner of man was he?' What disarms and disturbs Neilson's critics is the seeming paradox of this man, writing this verse: and this is the paradox of the naïves.
Download The Collected Verse
This variorum edition of John Shaw Neilson: The Collected Verse, edited by Margaret Roberts is available for download here. It is free for private use. It is registered with Copyright Agency Limited (CAL), which covers payment for use in courses in Australian universities. Intending commercial users should contact CAL.
Acrobat Reader version 5+ is necessary to view this PDF (5.5 MB). There are 1,238 pages in a single pdf file. It is recommended that you download only on a fast or networked connection.
If you do not have Acrobat Reader 5.0 or higher on your computer,
you can download it here.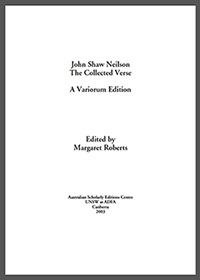 View the Contents
INTRODUCTION
SECTION 1: The man and the verse
SECTION 2: The poet and the editors
SECTION 3: The edition

MANUSCRIPTS
GREEN DAYS AND CHERRIES: A NOTE
EDITORIAL SYMBOLS
ABBREVIATIONS
HANDWRITING
CHRONOLOGY
TEXTS
PERIOD 1: 1890-1906
PERIOD 2: 1907-1916
PERIOD 3: 1917-1927
PERIOD 4: 1928-1942
VERSES THAT CANNOT BE ASSIGNED A DATE
VERSES OF DOUBTFUL ATTRIBUTION
FRAGMENTS
BIBLIOGRAPHY
ALPHABETICAL INDEX OF TITLES