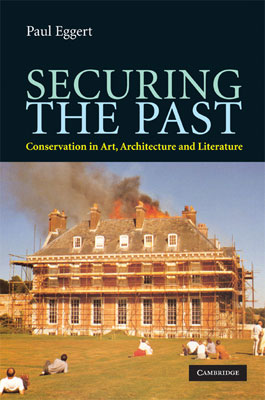 Securing the Past (2009)
Paul Eggert's monograph Securing the Past: Conservation in Art, Architecture and Literature (2009) is available from Cambridge University Press: for details and an excerpt see www.cambridge.org/978052172591.
This book is the first concerted effort to examine together the linked philosophies of the different arts of preserving and uncovering the past: the restoration of buildings, conservation of works of art, and editing of literary works to retrieve their original or intended texts. By investigating a series of recent crises in each of the areas, Securing the Past shows how their underlying justifications relate closely to one another. Paul Eggert shows how they have been philosophically undermined by postmodern theories but then charts another, richer way forward to a new future for the past.
---
Some reviews of Securing the Past
Times Literary Supplement, 21 and 28 August 2009, p. 31 (by David Lowenthal) view PDF 2.4 mb
Australian Book Review, September 2009, pp. 26?7 (by Robyn Sloggett) view PDF 118 kb
Australian Literary Review, 2 December 2009, p. 19 (by Patrick McCaughey)
Textual Cultures, 4 (2009), 113?18 (by Ronald Broude)
Ecdotica, 6 (2009), 459?66 (in Italian, by Paola Italia) view PDF
Papers of the Bibliographical Society of America (by James L. W. West III), 104 (2010), 386?8 view PDF 411 kb
Journal of Literary Theory, 5, no. 1 (2011), 16 pages (by Hans Walter Gabler as ?Thoughts on Scholarly Editing?), at http://nbn-resolving.de/urn:nbn:de:0222-001542
Comparative Literature, 63 (2011), 111?15 (by John Bryant) view PDF 527 kb